2015-07-29
Interview with Adelitas Way guitarist Robert Zakaryan
Adelitas Way are on the road in support of their 2015 "Deserve This" EP, and the trek includes headlining club dates across North America and a gig at the recent Rock Fest in Cadott, Wis. When the tour wraps up, the Las Vegas hard rockers plan to start getting to work their next release, which will hopefully be out by the end of this year.
Before the band took the stage at recent headlining date at The Loft in Lansing, guitarist Robert Zakaryan spoke with Audio Ink Radio about why the group felt the urge to release "Deserve This" so quickly after their last album, 2014's "Stuck," and his favorite tracks off the release and how he handles life on the road.
Congratulations on your latest EP, "Deserve This" EP. You guys just released your "Stuck" album last year. What got you going again so quickly to work on new music?
We had the songs and had put off the last full-length that we did for so long, so we just wanted to make up for that, almost, and go ahead and put something out, since we had songs we had already written, so we thought now there's no reason to just sit on songs.
Was there one song on "Deserve This" that you were especially excited to get out there?
I really like "Filthy Heart." That was one of my favorite ones. "Meant to Get You" is another fun one to play. "Harbor The Fugitive" is cool.
You regularly go from playing major festivals like Rock Fest last weekend to more intimate club shows. Do you have a favorite size venue to play?
The festival was a nice change. We hadn't played one in a while. I wasn't ready for it, though. I'm used to have a smaller area to have control over, and now I felt like I had to run around more! It's good to get in the swing of the festivals, but having one randomly hits you. I like them both. I played a great show, personally, the other night where I was really feeling it the other night in front of not that many people, and sometimes when you play in front of thousands it doesn't feel as good, because there's so much more pressure. But both of them are a blast, and any shows we play.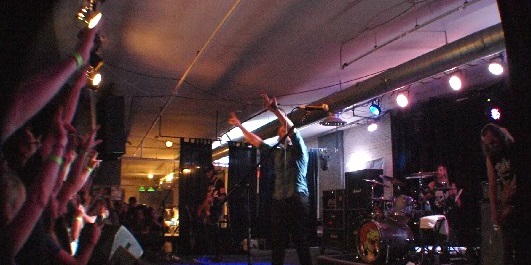 You guys are on the road all the time. How do you do it?
At this point, our skin has gotten thicker. We just road dog it. It's tough some days and you can get cranky from sweating or not having a place to chill, but we've embraced all that stuff to the point of when it does get rough, it just makes us stronger.
Are you planning a follow-up to "Deserve This?"
Yeah, after this tour, we're going to start recording and finishing the rest of our next record. I'm not sure how many songs will be on it, but we're trying to release the record hopefully in the winter time.
Photos by Anne Erickson
Comments
comments
Related Posts