2015-10-06
Interview: NXT superstar Baron Corbin sits down with Audio Ink Radio at Louder than Life festival
There's nothing like a dramatic, in-your-face professional wrestling match. From the theatrics to the acrobatics, the experience is a thrill. Just ask Baron Corbin, one of the most buzzed-about wrestlers in WWE's NXT division.
WWE's NXT was at Louder than Life festival in Louisville, Kentucky, last weekend, offering up a bevy of hard-hitting matches alongside performances from Bring Me the Horizon, Shinedown, Seether, Breaking Benjamin and many more. Corbin sat down with Audio Ink Radio at the festival to discuss his favorite music and the phenomenon that is NXT.
It's great to see NXT at Louder than Life. Are you having fun at the festival?
I'm loving the experience. To be a part of Louder than Life is pretty cool. I've spent a lot of time in the music world with friends, and I know a lot of people out here, so I'm getting to see a lot of friends that I haven't seen in a while. Sevendust was here yesterday, and they're really close friends of mine. Their new album, "Kill the Flaw," is killing it. To be a part of something where they're performing and I'm performing is a really cool experience.
What bands are you most excited to check out at Louder than Life?
Yesterday, it was cool to see Seether. Obviously, Sevendust. It's really cool that Atreyu is back doing their thing, so it was cool to see them. Rob Zombie, of course, always kills it. Today, Nothing More is playing and Black Stone Cherry and Shinedown. I'm going to see some bands I've never seen before, so it's awesome to be here, wandering around and watching some music.
What's your favorite part of being in NXT?
NXT has blown up, and we are taking over the wrestling world, and it's a revolution. So, that alone is my favorite part– being a part of something that is becoming such a takeover. We're going to Europe in December, which is unbelievable. I never thought NXT would be doing an overseas show. So, this whole revolution is my favorite part. When I look back in 10 years, to think that I was a part of it– that experience is worth everything.
I get the sense professional wrestling is experiencing a real high point and getting more popular and mainstream right now. Do you agree?
I most definitely do. The passion, especially down here at NXT, is out of this world. You have guys who have been doing this their whole lives, so their love and passion for wrestling carries into what we do. There's the competitive nature, and it really brings people in who want to be a part of this revolution. We get to be a part of it with them and share our love for what we do with our audience, and I think our audience grows every day because of that.
What music do you listen to when you work out?
It depends on my mood! I like everything from Lamb of God to Sevendust. Anything in that world of heavy music is what gets me going. I can't always listen to it, so I also have my folk music and stuff like that. I listen to everything from folk music to heavy metal.
For more on NXT, visit WWE's website.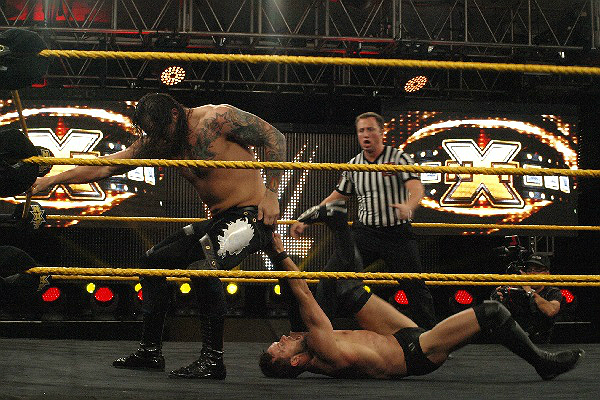 Photos by Anne Erickson
Comments
comments