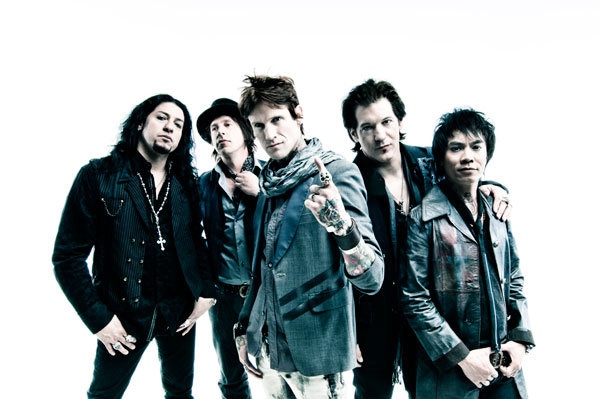 Buckcherry bring hard rock philosophy
Buckcherry guitarist and songwriter Keith Nelson makes it clear the hard rock band's latest album, All Night Long, is nothing of studio magic — it's Buckcherry, plain and simple. 
"We went to great lengths to make sure this was a very non-digital record," he says on the way to a tour stop in Green River, Wyo. "It's very analog; very organic. Whatever you hear, it's a real guitar, a real guitar amp, and there's no digital processing on the record." 
The way Nelson sees it, the album — and, really, Buckcherry's overall philosophy — is just the product of a natural evolution; one that comes from playing nonstop shows and living to deliver pure, bad-to-the-bones rock 'n' roll. The hard rock band tours with Mötley Crüe this spring.
Co-produced by Nelson and Marti Frederiksen (Aerosmith, Fuel), All Night Long delivers raw rock. 
"We're a live rock and roll band, and I think the album speaks to that," Nelson says. "We like to make records that we create faithfully with just the guys from the bad, and that's what we did." 
Of course, for those who have been following Buckcherry since their early days, party-themed songs are nothing new. Since mid-'90s, the Los Angeles-based rock band has churned out swaggering, post-grunge anthems and rocked tours with Mötley Crüe, Avenged Sevenfold and others.
If you ask Nelson, playing live is a blast: "It's about connecting with people and knowing our music is a soundtrack to their lives."
Nelson checked in with Audio Ink Radio to talk about what makes him tick. Here's the podcast: [audio:https://audioinkradio.com/wp-content/uploads/2011/03/Buckcherry-Interview-Rock-News.mp3|titles=Buckcherry-Interview-Rock-News]
-Xtra: Want more rock? Check out live photos from Linkin Park's latest tour.
Latest posts by Anne Erickson
(see all)
Related Posts