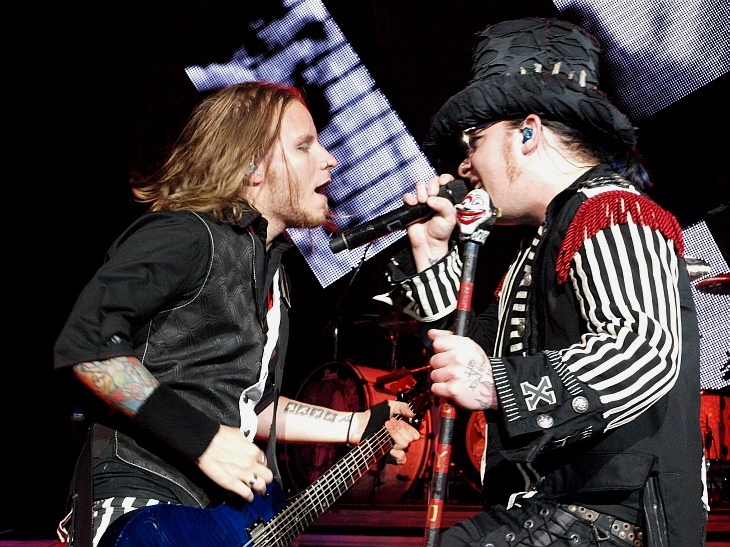 Shinedown are back in the studio this week to start work on a new album
Shinedown's last album, 2008's The Sound of Madness, turned into one gigantic single, generating six Top 10 rock radio hits in "Second Chance," "Diamond Eyes (Boom-Lay Boom-Lay Boom)," "The Sound of Madness," "Devour," "The Crow and The Butterfly" and "If You Only Knew." The guys are looking to top (or, at least match) that on their next release.
Vocalist Brent Smith, guitarist Zach Myers, drummer Barry Kerch and bass player Eric Bass (bass) re-entered the studio this week to start work on the band's long-awaited fourth studio release. As with The Sound of Madness, Grammy-winning rock producer Rob Cavallo (Green Day, Kid Rock) will produce the album.
Back in March, Myers told Audio Ink Radio the band would take its time on this next album.
"We aren't a band that goes into the studio and makes a record in six weeks," he said, adding that The Sound of Madness took 24 full months to write. "Brent has this weird thing when we're writing, we go into the studio, and there are no clocks around; there are no calendars on the wall. He doesn't like to have a time limit on being creative."
At the time, Myers said he hoped Shinedown would work with Cavallo again: "I'm the kind of guy that if it's not broken, don't fix it," referring to the success of the band's last album with Cavallo.
As for Smith, he's ready and raring to make a new album with familiar faces: "To say we are emotionally charged to start recording the new album would be a huge understatement," he said in a release. "Everyone hold on tight, this is going to be intense!"
Shinedown have proved they have what it takes to make a catchy, memorable rock nugget, so fans, be patient, because great songs don't happen overnight. Expect the new album out in 2012.
Comments
comments