2012-01-09
Stone Temple Pilots' 'Core' has withstood the test of time
Stone Temple Pilots celebrate the 20th anniversary of their monumental debut album, "Core," in 2012, and rest assured Scott Weiland and the gents plan to commemorate the occasion with plenty of musical goodies. Now, the alternative band have confirmed that they plan to tour in 2012. No word on whether the gigs will have Weiland and company playing "Core" in its entirety.
The band posted this note on their official website Friday (Jan. 6) regarding tour plans: "Stone Temple Pilots' seminal debut, Core, sold eight million copies and spawned the radio hits "Sex Type Thing", "Plush" and "Creep". Join us this year as we proudly celebrate the 20th anniversary of its release. Stay tuned for upcoming tour dates!" Check out the announcement at the end of the page.
"Core" was met with mixed reception back in 1992. Critics deemed the release as merely a rip off of Pearl Jam and other alternative bands, but supporters asserted that Stone Temple Pilots simply shared the same influences as their grunge rock peers as opposed to trying to emulate their sound. Over the years, "Core" has withstood the test of time, with songs that retain their appeal and still serve as the basis for rock radio playlists. "Wicked Garden" remains a historical piece of psychedelic rock, while the leisurely, acoustic "Creep" takes from Alice in Chains' textures and ambiances, resulting in the perfect alternative addiction. "Core" displayed Stone Temple Pilots' ability to create grunge tempered songs with melody and style, and for that, it's extremely revered.
Weiland recently told Fox's Good Morning New York that the band have plenty of "special" things lined up for the anniversary of "Core," including a possible box set, coffee-table book and likely a brand new album. Read more of what Weiland has to say about what 2012 holds, here.
Read Stone Temple Pilots' Official Statement Regarding the 20th Anniversary of 'Core':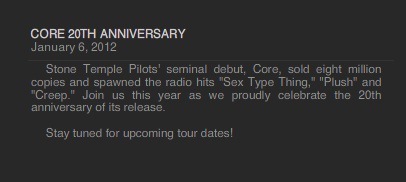 Comments
comments
Related Posts