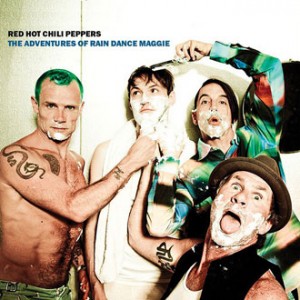 The Red Hot Chili Peppers are no doubt already rock royalty, but now, the guys are record holders, too. The band's latest single, "The Adventures of Rain Dance Maggie," off their upcoming album I'm With You, is No. 1 on the modern rock chart, giving the Peppers the most No. 1 singles in modern rock radio history. The numbers comes from Billboard's alternative chart and the BDS and Mediabase charts.
The Peppers began their streak of No. 1 hits in 1991 with the catchy-cool "Give It Away," and the chart-toppers continued with 1993?s "Soul to Squeeze," 1995?s "My Friends," 1999?s "Scar Tissue," 2000?s "Otherside" and "Californication," 2002?s "By the Way" and "Can't Stop," and 2006?s "Dani California," "Tell Me Baby" and "Snow (Hey Oh)." That makes for a record nobody has even come close to matching.
I'm With You, the band's 10th studio album (and first with new guitarist Josh Klinghoffer), drops Aug. 30 via Warner Brothers. Those looking for the full Chili Peppers experience may hit the theaters, as the band will perform the entire album, front to back, in a special high-definition cinematic in-theater event, "Red Hot Chili Peppers LIVE: I'm With You," broadcast live on satellite from Cologne, Germany, to local theaters across the world. Check out the Fathom Events website for a list of participating U.S. theaters.
Comments
comments
Related Posts