2012-02-10
President Barack Obama announces official Obama Campaign 2012 Playlist
The world already knows that President Obama is a fan of Al Green's "Let's Stay Together." Now, the president has announced his official Obama Campaign 2012 Playlist, and he's sharing it with the country via Spotify.
Thursday morning (Feb. 9), President Obama's campaign staff took to Twitter and Facebook to announce his official 2012 playlist, Tweeting, "A little Wilco, a bit of No Doubt—check out what else made it onto the new official #Obama2012 campaign playlist."
Among the 24 songs are No Doubt's "Different People," Florence + the Machine's "You've Got the Love," James Taylor's "Your Smiling Face," U2's "Even Better than the Real Thing" and Bruce Springsteen's "We'll Take Care of Our Own." And, yes, Al Green's "Let's Stay Together" is on there, too. Some of the tracks are undoubtedly surprising, but for the most part, it's a mixed bag that covers a variety of genres. Check out the full playlist below.
Full 2012 Obama Campaign Playlist:
Different People – No Doubt
Got To Get You Into My Life (Live) – Earth Wind & Fire Experience
Green Onions (Single/ LP Version) – Booker T. & The MG's
I Got You – Wilco
Keep On Pushing (Single Version) – The Impressions
Love You I Do – Jennifer Hudson (from the Dreamgirls soundtrack)
No Nostalgia – AgesandAges
Raise Up – Ledisi
Stand Up – Sugarland
This – Darius Rucker
We Used to Wait – Arcade Fire
You've Got The Love – Florence + The Machine
Your Smiling Face – James Taylor
Roll With The Changes – REO Speedwagon
Keep Marchin' – Raphael Saadiq
Tonight's The Kind Of Night – Noah And The Whale
Keep Me In Mind – Zac Brown Band
The Weight – Aretha Franklin
Even Better Than The Real Thing – U2
Home – Dierks Bentley
Everyday America – Sugarland
Learn To Live – Darius Rucker
Let's Stay Together – Al Green
Mr. Blue Sky – Electric Light Orchestra
My Town – Montgomery Gentry
The Best Thing About Me Is You Feat. Joss Stone – Ricky Martin
You Are The Best Thing – Ray LaMontagne
We Take Care Of Our Own – Bruce Springsteen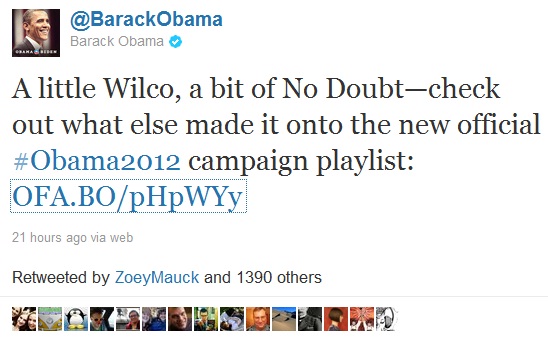 [social_share/]
Comments
comments
Related Posts