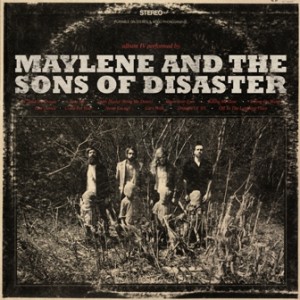 New Maylene and the Sons of Disaster Drops this Fall
Maylene and the Songs of Disaster bring together the best in Southern rock and alt-metal. The Birmingham, Alabama, band are set to release their highly-anticipated new studio collection, Maylene and the Sons of Disaster: IV, on Sept. 27 through Ferret Music.
The LP, produced by Brian Virtue (Jane's Addiction, Audioslave), is prepped to brings Maylene's characteristic blues-y musical style, flattered by Dallas Taylor's in-your-face, scream-o vocals and a hardcore attack.
Taylor says the band took risks during recording sessions.
"As humans, we play things so safe and everything 'makes sense' or is 'figured out' and is how it's supposed to be," he said in a release. "I hope it will make people question their lives and how they do things, and make people realize what they have."
He added that Maylene and the Sons of Disaster are a "new band now with a new drive," and that "this is the most serious thing we've ever done and the most grown-up record I've ever made in my life."
"I think it will surprise a lot of people who were into Maylene before. It is a very dark record, but it's the most truthful and heartfelt thing I have done in my life."
Maylene are currently on a 30-city U.S. tour through Sept. 3.
Forefathers Group (In Flames, Children of Bodom) designed the cover art for Maylene and the Sons of Disaster: IV, which appears above.
Maylene and the Sons of Disaster: IV Track Listing:
01. In Dead We Dream
02. Save Me
03. Faith Healer (Bring Me Down)
04. Open Your Eyes
05. Killing Me Slow
06. Taking on Water
07. Fate Games
08. Come for You
09. Never Enough
10. Cat's Walk
11. Drought of '85
12. Off to the Laughing Place
Watch Maylene and the Sons of Disaster's Music Video for 'Step Up'

Comments
comments
Related Posts