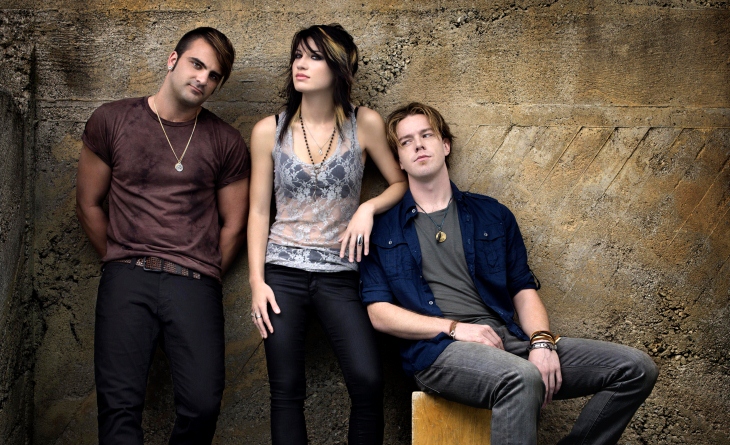 Sick Puppies' Tri-Polar Deluxe Features B-Sides, Band Goodies
Sick Puppies bass slinger Emma Anzai has shared the stage with mega rock names: Nickelback, Seether, Shinedown, Velvet Revolver. But looking back on Sick Puppies' decade-plus together, the one that really stands out is playing Big Day Out in her home country of Australia.
"When that moment came when we actually played that festival in Australia, it was one of those moments," she said, speaking from a gig in Alaska. "All these bands were there, like the Killers, Jet, Tool. We were so stoked to play the festival and share the stage with those bands."
Anzai, Shimon Moore (vocals, guitar) and Mark Goodwin (drums) got together and formed Sick Puppies while still in high school. Right away, it was obvious the trio had a talent for music that's fast and heavy— well-written rock that grips at hard rock's power with a delicate hand.
Early on, the band knew they wanted to pursue music seriously, but Anzai says they weren't sure how far it would take them.
"When we first started playing, we just had this passion for music and wanted to continue, but I'm not sure when the time came that we thought we could really do this full-time, because it was always in our heads that it's very hard to make a living off of music," she said. "So, we had jobs when we were doing the band, as well.
"Mainly, when we moved to Los Angeles five years ago, we had management and he was very gung-ho about making it work, and he felt Los Angeles was a better spot, with our genre of music. That's when we started to think it could work."
Their manager was right. Sick Puppies' 2007 release, Dressed Up for Life, debuted inside the Billboard 200, and the succeeding release, 2009's Tri-Polar, hit No. 12 on the Billboard Rock Albums and No. 9 on the Alternative Albums charts. Hits such as "All the Same," "Maybe," "Odd One," "You're Going Down" and "Riptide" are regulars on rock radio playlists.
Sick Puppies' Tri-Polar Deluxe dropped in May, featuring "everything we've ever done in one package," including the Tri-Polar album, Polar Opposite (featuring re-imagined tracks from Tri-Polar and more), three B-sides and more.
"We wanted fans to hear the songs in a new way and to listen to them, so we changed it up a bit," she said. "I really like how it turned out, and I think it shows another side of Sick Puppies."
Photo credit: Chapman Baehler, Courtesy Photo
Comments
comments
Related Posts