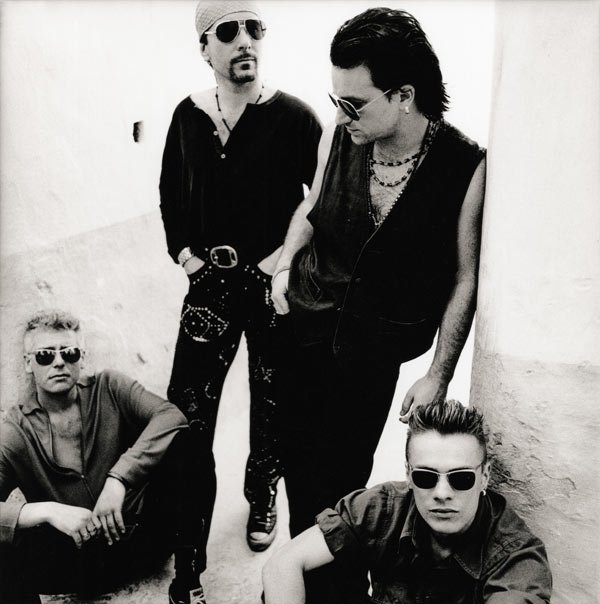 U2 celebrate Achtung Baby with tribute album packing rock artists
U2's Achtung Baby is, arguably, the album that made U2 rock superstars. Now, U2 are commemorating the 20th anniversary of their 1991 nugget with five different re-mastered re-releases, which include concert footage, a new documentary and a reproduction of Bono's famed sunglasses. In addition, during a press conference at the Toronto International Film Festival, Bono disclosed that a special tribute album to Achtung Baby is also being recorded, commissioned by the British music magazine Q.
"Making Achtung Baby is the reason we're here now," Bono says in Davis Guggenheim's much anticipated U2 documentary, From the Sky Down, which debuted at the Toronto International Film Festival last week. The film is reportedly a look inside the tension, passion and struggle of U2's early days and how the band came through it all. "I found it a little humiliating to realize that we were so inept and these days we're a better band," Bono added in the subsequent press conference. "We've learned our craft — and therein lies the huge danger, which is there's a giant chasm between the very good and the great, and U2 right now has a danger of surrendering to the very good."
According to Rolling Stone, musicians on the tribute release include the White Stripes' Jack White, Depeche Mode, Patti Smith and Damian Rice. Bono loves the idea: "Jack White does 'Love Is Blindness,' Depeche Mode do 'So Cruel,' Patti Smith did 'Until the End of the World,' Damien Rice does 'One.' It just goes on. And it's strange, because when I hear the album, when U2 do it, all I hear is what's wrong with it. But when I heard all these artists doing it, I thought, 'It's really good.'"
Bono also stated that artist Damien Hirst has completed a video for, "Even Better Than the Real Thing," with "very special art work, which has only been shown once and probably won't be shown again, because [it was for the] Glastonbury festival and it's an extraordinary work of art." There's no word yet on who will cover the song, "Even Better Than the Real Thing," or the other U2 hits.
Comments
comments
Related Posts