2012-02-09
Smashing Pumpkins inch closer to new label home
Smashing Pumpkins visionary Billy Corgan is a fan of Twitter, as the grunge throat is known for spitting out band updates and various personal musings on a daily basis via the social networking tool. Now, Corgan has announced via his official Twitter account that the Smashing Pumpkins are close to singing a new record deal! The new label will serve as a home for the band's much-ballyhooed upcoming album, "Oceania," plus other future endeavors.
Corgan Tweeted, "On Oceania news I think we'll have a release date to announce in the next few weeks. Signing record deal now…" He added some news about the band's other upcoming releases, to boot: "Exciting news/Pisces Iscariot re-issue will have a recreation of band original demo tape (1988)+ a NEW Glynis remix from master tapes… Oh, and also on the DVD a full UN-EDITED performance (1988) on local cable access w/ false starts, dialogue (shot at Roselle Music!)"
Late last month, Corgan engaged in a fan Q & A via Twitter. When asked with whom he'd like to do a proper tour, he named an interesting pair: '90s alternative rock band Jane's Addiction and newly reunited metal men Black Sabbath. Jane's Addiction makes sense. Black Sabbath, perhaps not so much. "@TwitterMusic @towishdangerous i would love to tour with @janesaddiction or BLACK SABBATH @officialsabbath," he Tweeted. No word on whether either band is taking him up on the idea. Who would you like to see Corgan and the alt-rock gang hit the road with this year?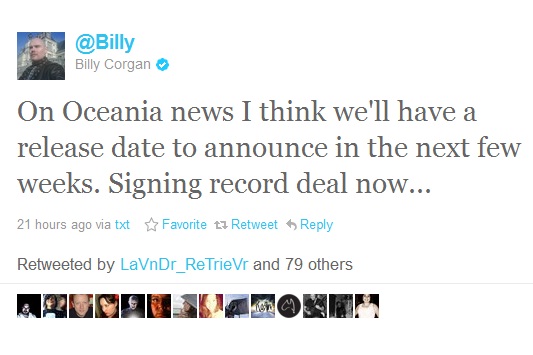 [social_share/]
Comments
comments
Related Posts