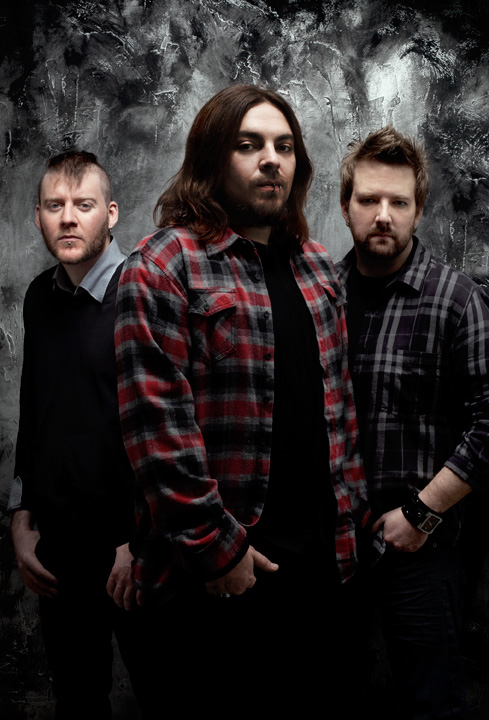 Drummer Says New Single is 'the Best of Pop-Rock for Seether'
Seether is one of the few post-grunge bands to step out of Nirvana's footprint just enough to stay fresh and novel, while still bringing those murky, fuzzy guitars and raw vocals reminiscent of the best in '90s grunge rock.
Early-2000s hits "Fine Again" and "Driven Under" brought the first signs of fanfare for Seether. Over the next few years, more rock radio hits followed, including "Remedy," "Rise Above This," "Fake It" and "Broken," the latter which frontman Shaun Morgan famously recorded with then-girlfriend Amy Lee of Evanescence.
Seether's latest album, Holding onto Strings Better Left to Fray, packs more crunchy distortion and brooding grains, and more rock radio hits, including "County Song" and the latest single, "Tonight." The band takes the new songs on the Rockstar Energy Drink Uproar Festival this fall, alongside 3 Days Grace, Bullet for My Valentine, Avenged Sevenfold and more.
Drummer John Humphrey checked in with Audio Ink Radio to talk about Seether's new album ("It was like a Christmas present for me"), their new single 'Tonight' (which almost didn't make the album) and why the 2011 Rockstar Energy Drink Uproar Festival will be one big reunion.
Seether has slowly built success over the years, from early hits like "Driven Under" to your newer tracks such as "Rise Above This" and "Country Song." What do you attribute to Seether's longevity?
We really pride ourselves on honing our craft. We've been very fortunate. We were with a label (Wind-Up Records) that didn't just drop us after our first album if it wasn't a hit, and it's been a slow, growing thing. I think with each album, we get a little better at songwriting. I think our time on the road and the hours we put in have helped us become better musicians. I least I hope is has. [Laughs] I think each album gets stronger and better, and I feel our last album here is some of the best stuff we've ever done.
What was it like working with producer Brendan O'Brien on your new album, Holding onto Strings Better Left to Fray?
He was great. It was a dream for us. It was like a Christmas present for me, because on Christmas of '09 Shaun called me and said, "Look, I had a meeting with Brendan and he wants to do the album." We were floored. He did Pearl Jam, Soundgarden, all STP stuff. He has a huge, amazing body of work. For all the success, he's down to earth. He works hard. When he gets into the studio, he's 12 to 14 hours non-stop. He has a lot of great ideas, and he's very excited and pumped up. He wants it to be the best. He's not motivated at this point by money or anything; he just really wants album to be successful and the best it can be. And he's a musician as well, so he could talk to us at that level, and he was able to have great input on the arrangement of the songs and various changes. He was a great producer to work with and very creative, and he helped make this album what it is.
You're on the 2011 Rockstar Energy Drink Uproar Festival with 3 Days Grace, Bullet for My Valentine, Art of Dying, Avenged Sevenfold and more. You're toured with a lot of these bands before, right?
Yeah, it's kind of a reunion of sorts, because we get to see these guys every now and then, and it's kind of cool that on this sort of rolling touring fest, we'll be seeing all these bands and buddies of ours for for six to eight weeks. We've toured expansively with 3 Days Grace, and I love those guys. They're great guys. I love Sevendust, who's headlining the second stage. I've known those guys for years. They're just a great band. So, it's very inspiring. I almost feel like being an opening band, even though we're one of the headliners on the main stage, because I still feel like we have to go out there prove ourselves. That' exact what we intend on doing. We're not going to be complacent. Not that we have been, but this will keep us on our toes. It will be very inspiring and a good way to rock during the fall.
What's the story behind Seether's new single, "Tonight?"
"Tonight" is one of the last songs we wrote, and the song almost didn't make the album. Shaun [Morgan, frontman] had put together a demo for the song, and he was playing it for Dale [Stuart, bass player] and I.  Each day on the way to the studio, we would stop at Starbucks or another coffee shop to get our morning coffee before going into the studio, because we were on Brendan's day schedule, and we're kind of night owls, so we definitely partook in the caffeine to kind of jump start. We were sitting in line at Starbucks, and Shaun started playing the demo off his iPod, and we were like, "This song is awesome, man."
It's a super strong song. It was very melodic and just the best of pop-rock for Seether. We were like, "This is a really good song, Shaun. What is it?" He said he wasn't sure, because we were done with tracking, but we really thought we should do it. So we got to the studio played it for Brendan, and he was like, "Oh, yeah, absolutely, we have to get this thing going." So we set up the drums, did the basic tracks again and last minute, added the song. I think it's a really strong song and a great single.
Do you have anything planned after Uproar?
Yeah, we're doing a show in South Africa that's kind of like a homecoming show for Shaun [Morgan, vocals] and Dale [Stewart, bass], being from South Africa, right before holidays. Then we're going overseas after Christmas, to the UK and Europe.
Comments
comments
Related Posts