2011-09-28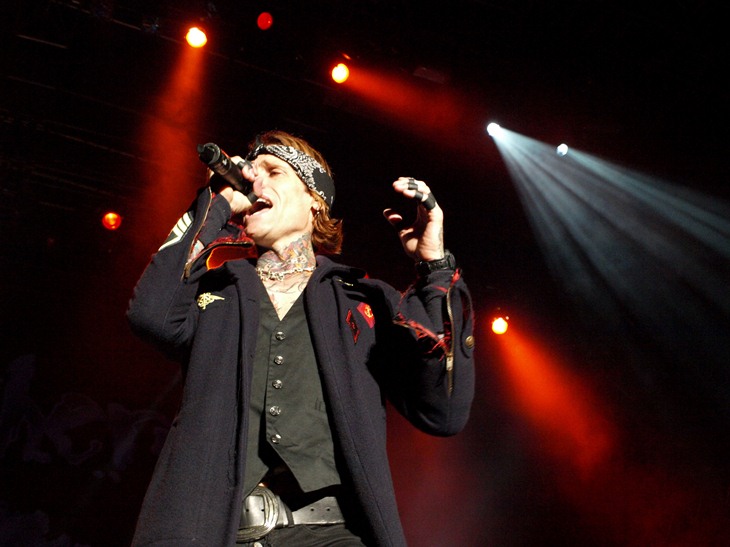 Buckcherry fight child abuse with PSA campaign
Rock guys Buckcherry are lending their musical talents to a worthy cause. The California-based group have teamed up with Childhelp, a national nonprofit committed to the prevention and treatment of child abuse, for a "Hope" Public Service Announcement to bring attention to child abuse in the United States. Watch the PSA, below.
"We are grateful to be involved with such a fantastic organization and raise awareness for children everywhere," Buckcherry lead guitarist Keith Nelson said in a release.
"Our goal with the Childhelp Hope PSA is to bring this important message into every community nationally," added Sara O'Meara, Childhelp Co-Founder and CEO. "We are grateful for Buckcherry's partnership and dedication to helping our children."
The PSA serves to get the message out to "don't give up," showing Team Childhelp, led by hilarious actress Betty White and Shaquille O'Neal, going up against Team Buckcherry on the basketball court. Who wins? You'll have to watch to find out.
Buckcherry have been a celebrity ambassador to Childhelp since 2009, and they've raised over $10,000 for Childhelp's programs and services. This is their second PSA with the nonprofit. Awesome rock music for a good cause? That's a win-win.
Buckcherry also recently announced they will be opening for Guns N' Roses on five select upcoming tour dates: Oct. 28 in Orlando, Fla.; Oct. 29 in Miami, Fla.; Oct. 31 in Greenville, S.C.; Nov. 02 in Atlanta, Ga.; and Nov. 04 in Houston, Texas. The band's last album, All Night Long debuted No. 10 on the Billboard 200 chart and sold 28,000 copies in the U.S. its first week out.
Watch Buckcherry, Betty White and Shaquille O'Neal's Childhelp PSA:

Related Posts